Heirloom Kitchen is an evolving culinary center. We are a Farm-to-Table Restaurant and Supper Club (offering Thursday through Sunday dinner service in an open kitchen), a recreational cooking school, and a retail boutique with a carefully curated selection of kitchenwares and table-top. We are committed to sourcing the finest quality ingredients and creating both elevated and interactive dining experiences.
RESTAURANT & SUPPER CLUB
Thursday through Sunday, Heirloom Kitchen transforms into a restaurant supper club. We offer chef's table seating around our kitchen island where guests can watch Chef Viana and his team prepare and artfully present their dishes. Chef Viana's menu, changing with the seasons, and often weekly, features modern, playful takes on American classics. Reservations and walk-ins welcome.
Cooking Classes
We offer a variety of recreational hands-on cooking classes. Examples include pasta-making, healthy cooking, ethnic cooking, basic skills, making the most of the season's fresh produce, to digging into a four-course meal you've made yourself (with a little help from our prestigious chefs, local butcheries, fisheries, and farms).
Retail Boutique
Heirloom Kitchen seeks out artisanal items from around the globe to carry in its boutiques. With a keen eye for both form and function, we stock our shelves with our favorite kitchen tools & tabletop pieces.
Whether it be learning how to make pasta from scratch, picking up an unusual gift for a loved one, enjoying a hands on cooking class or a one of a kind dinner experience on Friday's date night, Heirloom Kitchen offers a culinary center for all the foodies out there.

We are inspired by heirloom products, creative culinary discoveries, and the celebration of food!
Who We Are
Neilly Robinson
Founder / Partner / Managing Director
Both owner and operator, Neilly manages all things Heirloom Kitchen—cooking school, restaurant, and retail. Originally founding Heirloom alongside her mother Judy Rosenblum, the pair attracted talented chefs from all over the tri-state area to collaborate in Heirloom's open kitchen. Within its first year, Heirloom was named one of the "Best Cooking Classes Around the World," by Food & Wine Magazine. In 2016, Neilly decided to evolve Heirloom's retail and cooking school model by partnering with Chef David Viana and incorporating a Weekend Restaurant into the mix.
Recently, Neilly staged with Andy Clark at Moxie Bread Co in Louisville, Colorado where she elevated her baking skills and developed a serious passion for naturally leavened breads. Neilly bakes Heirloom's sourdough bread in-house daily.
David Viana
Partner / Executive Chef
After cooking with world-class chefs, including Bobby Flay, Anthony Bucco, and Michael White, and sharpening his skills in world-class kitchens such as Eleven Madison Park, and Two Star Michelin restaurant Villa Joya in Portugal, Chef Viana received distinguished recognition as the Executive Chef at The Kitchen at Grove Station, receiving three stars from the New York Times who described his dishes as "magical" and "hypnotizing." At Heirloom Kitchen, Chef Viana continues to impress, receiving three-and-a-half stars from The Star-Ledger within weeks of joining the team. Chef Viana was nominated for a James Beard Award—Best Chef in the Mid-Atlantic in 2018.
Sean Yan
Pastry Chef
Chef Sean Yan's culinary journey started in the world of savory, vocationally trained at the Institute of Culinary Education. He worked under the tutelage of Chef Ben Nerenhausen at Mistral in Princeton, NJ. There, he learned how to approach desserts with restraint and how to delicately balance unique flavors without overpowering the palate with sweetness. Since 2017, Chef Yan has been Heirloom Kitchen's Pastry Chef, serving up novel desserts with ingredients patrons might not expect. On his days off you can find him trying new restaurants and seeking new inspiration for his creations.
Zachary Abramzon
Chef De Cuisine
Chef Zachary Abramzon started his culinary journey working in various kitchens in northern New Jersey, including Uproot, before taking a year sabbatical to travel the nordic countries and work in Michelin establishments such as Faviken and Cafe Nizza. These experiences cemented his keen interest in the New Nordic movement which he began sharing with the Heirloom family in 2019. Pulling from both his Ukrainian and Israeli roots, Zach also teaches some of our favorite cooking classes and creates some of our most inspired dishes at Heirloom Kitchen.
Roxy Rafols
Guest Relations
Before initially joinging our team as Host in early 2020, Roxy got her true start at Heirloom Kitchen as fan, frequenting our cooking classes and participating in all things Heirloom. Roxy continually expands her roll and has a hand in all of the happenings at Heirloom Kitchen. Whether you are signing up for classes, making reservations, or celebrating life's big and little moments with us, you've likely had the pleasure of communicating with Roxy. Hospitality is her passion but her educational background is in Neuroscience and she has a Masters in Child Development. When she is not at Heirloom, she is a mom of three young kiddos and loves doing all things outdoorsy.
One of the top six new cooking schools in the country!
—Food & Wine Magazine, 2015
"There is absolutely no substitute for the best. Good food cannot be made of inferior ingredients masked with high flavor. It is true thrift to use the best ingredients available and to waste nothing."
—James Beard (Chef, Writer, Educator and Namesake of The James Beard Foundation)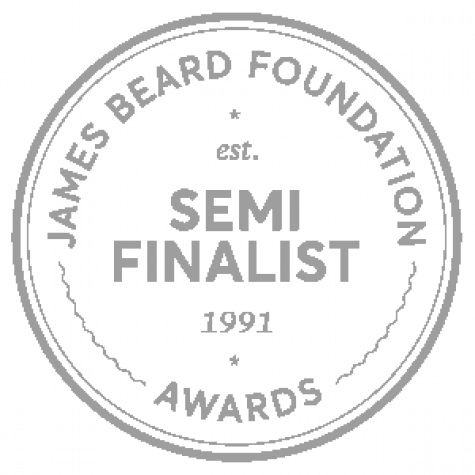 Best Chef: Mid-Atlantic
2018 Semi-Finalist
Hungry for More? Subscribe to Our Mailing List!
Follow Us on Social Media
info@heirloomkitchen.com | 3853 Route 516 Old Bridge, NJ 08857 | 732-727-9444
© Heirloom Kitchen, LLC. All rights reserved.