Book a Reservation in Old Bridge, NJ
Four Course Prix Fixe
$89
BREAD SERVICE
M'semmen for Two (Optional Addition, $18)
caramelized onion | whipped feta | fig jam
First
Select One
Heirloom Tomato
tomato bavarian cream | shallot | garlic caramel | pickled basil seed | rye

Citrus Cured Snapper
watermelon broth | lychee | Thai chili | furikake tempura | makrut lime oil

Chicken Liver Mousse
"Bahn Mi" | brioche | jalapeño | pickles | cilantro
Second
Select One
Sorpresine
prosciutto broth | cherry tomato | peach agrodolce | stracciatella | basil

Charred Octopus
baba ganoush | burnt cashew butter | lemon potato | crispy capers | sumac

Adobo Squid
charred calamari | squid ink adobo | serrano chili | green mango atchara
Third
Select One
Fluke
cassoulet | sofrito | caponata | pepperoni butter

Black Cod
dill | rosti | summer squash | ginger foam | brûlée fig | yuzu aioli

Duck
jerk roasted honeynut squash | braised cabbage | Jamaican spices | habanero jus

Tamal
pork belly "birria" | mole | fermented peach | gooseberry | wax bean | NJ sweet corn
Fourth
Select One
Basil Mousse
white chocolate | lemon curd | olive oil cake | pine nut brittle | parmesan ice cream

Beet Velvet Cake
raspberry bavarian | blackcurrant sherbet | hibiscus

Hushpuppies
elote anglaise | peaches | gooseberry | caramel popcorn
Vegan Prix Fixe
Salad
Heirloom Tomato

shallot | garlic caramel | pickled basil seed | rye
Appetizer
Summer Squash
adobo | atchara | serrano | doenjang 
Entree
Cassoulet
sofrito | charred eggplant | caponata | doenjang
Dessert
Banana Cake
caramelized pineapple | cinnamon meringue | coconut caramel | carrot sorbet
Wine
*We are BYO; however, we are also a showroom for Domenico Winery,
which enables us to offer their award-winning wines by the bottle at retail pricing!
Domenico is a family owned and operated boutique winery located in San Carlos, California specializing in Italian varietals.
White
Pinot Grigio, Contra Costa County, 2021 | 26
white variant clone of Pinot Noir | chalky minerality with a hint of nutmeg
Riesling, California, 2018 | 26
slightly off dry | wonderful aromas of white peach
papaya and jasmine followed by fresh stone fruits on the palate with a long honey finish
Chardonnay, California, 2022 | 27
full-bodied | aromas & flavors of almond marzipan, butterscotch, poached pear, sweet lemon curd, and crème brûlée | rich, creamy mouthfeel | finishing notes of fig and honey
Sauvignon Blanc, Amador, 2021 | 27
intensely fragrant with aromas and flavors of pineapple, melon, and ruby red grapefruit accented with notes of bright citrus and lemongrass
Red
Pinot Noir, California, 2021 | 36
vibrant cherry | fresh mushroom | red currant | vanilla finish
Super Tuscan, Lodi, 2019 | 32
aromas of red currant, fig and sweet plum | notes of clove, cherry cola and cedar medium-bodied with firm tannins | lush lengthy finish
Syrah, Amador, 2018 | 33
estate grown | full-bodied | dark fruit flavors | youthful tannins
boysenberry, raspberry, chocolate | nuances of bacon and white pepper
"Dinner is not what you do in the evening before something else. Dinner is the evening."
—Art Buchwald (American Humorist)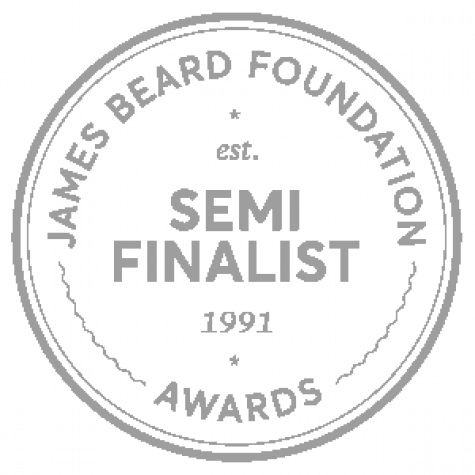 Best Chef: Mid-Atlantic
2018 Semi-Finalist
Hungry for More? Subscribe to Our Mailing List!
Follow Us on Social Media
info@heirloomkitchen.com | 3853 Route 516 Old Bridge, NJ 08857 | 732-727-9444
© Heirloom Kitchen, LLC. All rights reserved.