CURRENTLY OFFERING
OUTSIDE DINING & TO-GO DINNERS
Scroll down for a peek at this week's
Outside Dining and To-Go Prix Fixe menus.
OUTSIDE DINING
FOUR COURSE PRIX FIXE
$89
FIRST (select one)
Potato Salad and Caviar
summer beans | buttermilk horseradish foam

Tuna Tataki
patty pan squash | lotus root |  mizuna | yuzu kosho 

Burrata, Tomato, and Clam
shiro dashi | Thai basil | sesame seeds | gochugaru
SECOND (select one)
Octopus
date ssamjang| ramp kimchi| cucumber pickle

Crab Saffron Rotolo
shellfish | cherry pepper | tomato | basil

Ricotta Toast
beets | summer berries | chamomile vinaigrette
THIRD (select one)
Portuguese Poached Fluke
potato | onion | red pepper | tomato | cilantro | fish fumé

Roast Chicken
crispy corn polenta | creamed swiss chard | honey gorgonzola

Pork Tenderloin
dill spaetzle | bratwurst mousse | pretzel | Riesling jus 

Duck Breast
miso yam | sesame broccoli | duck jus
FOURTH (select one)
Champagne Mango Pudding
smoked yogurt | vanilla crunch | frozen papaya

Jersey Corn Cake
sweet corn gelato | yuzu caramel | hazelnuts

S'mores
graham bar | dark chocolate cremeux | meringue | candied pecans
TO GO PRIX FIXE MENU 
$148 | serves four people
SALAD
Escarole & Watermelon
pickled watermelon rind | goat cheese | pepita | honey mint vinaigrette
APPETIZER (select one)
Esquites
roast corn | chipotle aioli | cotija cheese | cilantro | scallions

Mussels
potatoes | smoked trout | crème fraîche white wine broth

Harissa Roasted Carrots
grilled halloumi| carrot hummus | mint gremolata | naan
ENTREE (select one)
Lasagna
zucchini | smoked mozzarella | parmigiano reggiano | truffle cream | basil

Scallops
baby corn | fried hominy | Napa cabbage | tomatillo 

Jerk Chicken Skewers
citrus rice and peas | mango slaw
DESSERT
"S'mores"
cremeux | graham cracker bar | marshmallow fluff | hazelnuts
WINE
*We are BYO; however, we are also a showroom for Domenico Winery,
which enables us to offer their award-winning wines by the bottle at retail pricing!
Domenico is a family owned and operated boutique winery located in San Carlos, California specializing in Italian varietals.
WHITE
Pinot Grigio, Contra Costa County, 2013 | 25
white variant clone of Pinot Noir | chalky minerality with a hint of nutmeg
Riesling, California, 2014 | 25
slightly off dry | wonderful aromas of white peach
papaya and jasmine followed by fresh stone fruits on the palate with a long honey finish
Chardonnay, California, 2015 | 27
full-bodied | aromas & flavors of almond marzipan, butterscotch, poached pear, sweet lemon curd, and crème brûlée | rich, creamy mouthfeel | finishing notes of fig and honey
Sauvignon Blanc, Amador, 2014 | 27
intensely fragrant with aromas and flavors of pineapple, melon, and ruby red grapefruit accented with notes of bright citrus and lemongrass
RED
Pinot Noir, California, 2014 | 36
vibrant black cherry character | nuances of vanilla and caramel on the palate
Super Tuscan, Lodi, 2012 | 30
aromas of red currant, fig and sweet plum | notes of clove, cherry cola and cedar medium-bodied with firm tannins | lush lengthy finish
Syrah, Amador, 2010 | 33
estate grown | full-bodied | dark fruit flavors | youthful tannins
boysenberry, raspberry, chocolate | nuances of bacon and white pepper
"Dinner is not what you do in the evening before something else. Dinner is the evening."
—Art Buchwald (American Humorist)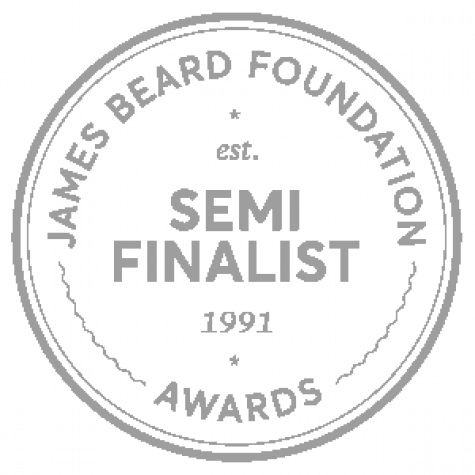 Best Chef: Mid-Atlantic
2018 Semi-Finalist
Hungry for More? Subscribe to Our Mailing List!
Follow Us on Social Media
info@heirloomkitchen.com | 3853 Route 516 Old Bridge, NJ 08857 | 732-727-9444
© 2018 Heirloom Kitchen, LLC. All rights reserved.  /  Designed by Waveman Studio