CURRENTLY OFFERING
INSIDE + OUTSIDE DINING
Scroll down for a peek at this week's menus.
FOUR COURSE PRIX FIXE
$89
BREAD SERVICE
Japanese Milk Buns for Two (Optional Addition, $18)
uni curd | black bean soy glaze | shiso 
FIRST (select one)
Cantaloupe Gazpacho
musk melon | dragonfruit | burnt coconut oil | nori

Fluke Crudo
nectarine | lemongrass | Thai basil | mint | sea beans

"Steak Frites" Tartare
harissa deviled egg purée | wild fennel | jalapeno ketchup
SECOND (select one)
Corn Tom Kha
masa noodles | charred corn salsa | peanuts

Dry Aged Beef Kafta
eggplant | golden raisin chutney | shattah | sumac

"Al Pastor" Octopus Taco
salted almond crema | pickled pineapple | tangerine frills
THIRD (select one)
Pork
BBQ beans | Old Bay | cheddar polenta | jalapeno relish

Scallops
massaman curry | sweet potato | baby corn | peanut

Duck
manchego potato pancake | leeks | duck confit croquette | sherry jus

Black Bass
curry | squash blossom | goldbar yogurt | chickpea puree
FOURTH (select one)
Raspberries & Cream
coffee mascarpone | maple meringue | lemon raspberry

Zucchini Bread
chocolate squash ice cream | basil cremeux | pistachio

Jasmine Rice Pudding
vanilla | milk crumb | mandarin sorbet
VEGAN PRIX FIXE
SALAD
Cantaloupe Gazpacho
musk melon | dragonfruit | burnt coconut oil | nori
APPETIZER
"Al Pastor" Cauliflower
salted almond "crema" | pickled pineapple | tangerine frill
ENTREE
Artichoke Tempura
chickpea | orange | tomato chermoula | pickled onion
DESSERT
Strawberry Yuzu Sorbet
wild blueberries | pomegranate
WINE
*We are BYO; however, we are also a showroom for Domenico Winery,
which enables us to offer their award-winning wines by the bottle at retail pricing!
Domenico is a family owned and operated boutique winery located in San Carlos, California specializing in Italian varietals.
WHITE
Pinot Grigio, Contra Costa County, 2013 | 26
white variant clone of Pinot Noir | chalky minerality with a hint of nutmeg
Riesling, California, 2014 | 26
slightly off dry | wonderful aromas of white peach
papaya and jasmine followed by fresh stone fruits on the palate with a long honey finish
Chardonnay, California, 2015 | 27
full-bodied | aromas & flavors of almond marzipan, butterscotch, poached pear, sweet lemon curd, and crème brûlée | rich, creamy mouthfeel | finishing notes of fig and honey
Sauvignon Blanc, Amador, 2014 | 27
intensely fragrant with aromas and flavors of pineapple, melon, and ruby red grapefruit accented with notes of bright citrus and lemongrass
RED
Pinot Noir, California, 2021 | 36
vibrant cherry | fresh mushroom | red currant | vanilla finish
Super Tuscan, Lodi, 2012 | 32
aromas of red currant, fig and sweet plum | notes of clove, cherry cola and cedar medium-bodied with firm tannins | lush lengthy finish
Syrah, Amador, 2010 | 33
estate grown | full-bodied | dark fruit flavors | youthful tannins
boysenberry, raspberry, chocolate | nuances of bacon and white pepper
"Dinner is not what you do in the evening before something else. Dinner is the evening."
—Art Buchwald (American Humorist)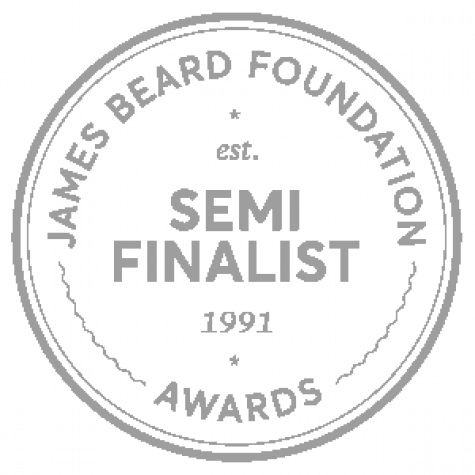 Best Chef: Mid-Atlantic
2018 Semi-Finalist
Hungry for More? Subscribe to Our Mailing List!
Follow Us on Social Media
info@heirloomkitchen.com | 3853 Route 516 Old Bridge, NJ 08857 | 732-727-9444
© Heirloom Kitchen, LLC. All rights reserved.