RESERVATIONS
Scroll down for a peek at our menu.
*While we make a concerted effort to keep our online menu up to date,
be aware that menu items are subject to change due to seasonality and availability.
**We are always happy to accommodate Vegan, Vegetarian, and Gluten Free diners. If we are not currently offering a suitable option on our menu, please do not hesitate to let your server know, and our Chef will create a dish based on the seasonal ingredients on hand.
DINNER
SMALL & SHARE
Caraway Focaccia
"Fields of France" butter | 5
Hudson Valley Foie Gras
pear chutney | pickled delicata squash | rosemary ris-"oat"-o | zabaione | 30
Octopus
tamarind | forbidden black rice | cashews | pineapple nouc cham | 20
Kale Sprout Salad
burnt apple | dill | potato | pickled shiitake | Maytag Blue Cheese | balsamic vinaigrette | 16
Tuna Crudo
sherry | roasted red pepper | honey | apple | manchego | 18
LARGE PLATES
Scallops
miso honey sunchoke purée | mushroom jam | peanuts | pears | shiso pesto | 39
Celery Root Gnocchi
rabbit bolognese | chicories | black truffle | 32
Venison
cappuccino polenta | hazelnuts | malt | juniper jus | 44
Duck
honey nut squash | porcini rice | sage | pomegranate lavender egg yolk | jus | 38
Oxtail Fideo
tomato | onion | lobster salsa verde | orange aïoli | saffron | 34
SIDES
Parsnip & Maitake Gratin with Cocoa Nib Baklava | 12
Crushed Purple Potato with Smoked Trout, Crème Fraîche, and Trout Roe | 11
Brussel Sprouts with Honey Sriracha, Puffed Rice, and Mint | 10
AGUAS FRESCAS & KOMBUCHA
Agua Fresca of the Day | 6
Iced Tea / Arnold Palmer | 4
Fine Health Kombucha
Rosemary Mint, 6 / Vanelle, 6
SWEETS
Banana Cake
macadamia | prickly pear | oats | maple | 12
Tahina Panna Cotta
fig | pomegranate honey | black sesame | 10
Bamboo Rice Pudding
pandan | dark chocolate | coconut | kaffir lime | 12
WINE
*We are BYO; however, we are also a showroom for Domenico Winery,
which enables us to offer their award-winning wines by the bottle at retail pricing!
Domenico is a family owned and operated boutique winery located in San Carlos, California specializing in Italian varietals.
WHITE
Pinot Grigio, Contra Costa County, 2013 | 24
white variant clone of Pinot Noir | chalky minerality with a hint of nutmeg
Riesling, California, 2014 | 24
slightly off dry | wonderful aromas of white peach
papaya and jasmine followed by fresh stone fruits on the palate with a long honey finish
Chardonnay, California, 2015 | 26
full-bodied | aromas & flavors of almond marzipan, butterscotch, poached pear, sweet lemon curd, and crème brûlée | rich, creamy mouthfeel | finishing notes of fig and honey
Sauvignon Blanc, Amador, 2014 | 27
intensely fragrant with aromas and flavors of pineapple, melon, and ruby red grapefruit accented with notes of bright citrus and lemongrass
RED
Pinot Noir, California, 2014 | 36
vibrant black cherry character | nuances of vanilla and caramel on the palate
Super Tuscan, Lodi, 2012 | 30
aromas of red currant, fig and sweet plum | notes of clove, cherry cola and cedar medium-bodied with firm tannins | lush lengthy finish
Syrah, Amador, 2010 | 32
estate grown | full-bodied | dark fruit flavors | youthful tannins
boysenberry, raspberry, chocolate | nuances of bacon and white pepper
"Dinner is not what you do in the evening before something else. Dinner is the evening."
—Art Buchwald (American Humorist)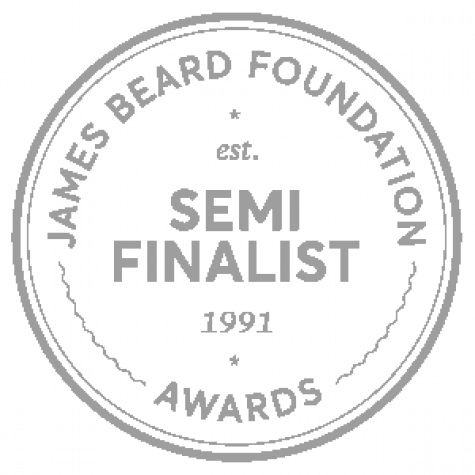 Best Chef: Mid-Atlantic
2018 Semi-Finalist
Hungry for More? Subscribe to Our Mailing List!
Follow Us on Social Media
info@heirloomkitchen.com | 3853 Route 516 Old Bridge, NJ 08857 | 732-727-9444
© 2018 Heirloom Kitchen, LLC. All rights reserved.  /  Designed by Waveman Studio