CURRENTLY OFFERING
INSIDE & OUTSIDE DINING
Scroll down for a peek at this week's menus.
FOUR COURSE PRIX FIXE
$89
FIRST (select one)
Butterhead Salad
fennel | butternut | delicata | apple | walnut | cider vinaigrette

Bay Scallop Ceviche
teardrop pepper | "seaweed salad" aioli | winter citrus | miso

Steak Tartare
king trumpet | truffled mustard green | orange | shallot
SECOND (select one)
Octopus
crispy potato | shishito | sage | truffle romesco

Sourdough "Cacio e Pepe"
gemelli | 5 yr aged Parmigiano-Reggiano fonduta | pink peppercorn

Pork Belly
pear ssamjang | radicchio | cucumber | sassafras
THIRD (select one)
Steamed Halibut
broccoli | chanterelle | almond crumble | ajo blanco | soy lime emulsion

Crispy Trout
potato | cauliflower | hazelnut | butter pickle raisin | watercress purée | brown butter

Duck Breast
fried taro | egg yolk purée | aji verde | jalapeno

Venison
mushroom arancini | thumbelina carrots | blueberry gastrique | taleggio sauce
FOURTH (select one)
Fall Pavlova
cocoa meringue | Hokkaido pumpkin | miso candied pecans

Vietnamese Cinnamon Cake
huckleberry | lemongrass| ginger

"Cookies & Cream"
lavender | cocoa croutons | smoked butter
VEGAN PRIX FIXE
SALAD
Escarole Salad
apples | goldbar zucchini | almond | brown sugar vinaigrette
APPETIZER
Truffle Romesco
shishito | delicata squash| crispy potato
ENTREE
Cauliflower Steak
broccoli | chanterelle | almond crumble | ajo blanco |
soy lime emulsion
DESSERT
Dill Almond Cake
passion fruit | orange | pickled cherries
WINE
*We are BYO; however, we are also a showroom for Domenico Winery,
which enables us to offer their award-winning wines by the bottle at retail pricing!
Domenico is a family owned and operated boutique winery located in San Carlos, California specializing in Italian varietals.
WHITE
Pinot Grigio, Contra Costa County, 2013 | 25
white variant clone of Pinot Noir | chalky minerality with a hint of nutmeg
Riesling, California, 2014 | 25
slightly off dry | wonderful aromas of white peach
papaya and jasmine followed by fresh stone fruits on the palate with a long honey finish
Chardonnay, California, 2015 | 27
full-bodied | aromas & flavors of almond marzipan, butterscotch, poached pear, sweet lemon curd, and crème brûlée | rich, creamy mouthfeel | finishing notes of fig and honey
Sauvignon Blanc, Amador, 2014 | 27
intensely fragrant with aromas and flavors of pineapple, melon, and ruby red grapefruit accented with notes of bright citrus and lemongrass
RED
Pinot Noir, California, 2014 | 36
vibrant black cherry character | nuances of vanilla and caramel on the palate
Super Tuscan, Lodi, 2012 | 30
aromas of red currant, fig and sweet plum | notes of clove, cherry cola and cedar medium-bodied with firm tannins | lush lengthy finish
Syrah, Amador, 2010 | 33
estate grown | full-bodied | dark fruit flavors | youthful tannins
boysenberry, raspberry, chocolate | nuances of bacon and white pepper
"Dinner is not what you do in the evening before something else. Dinner is the evening."
—Art Buchwald (American Humorist)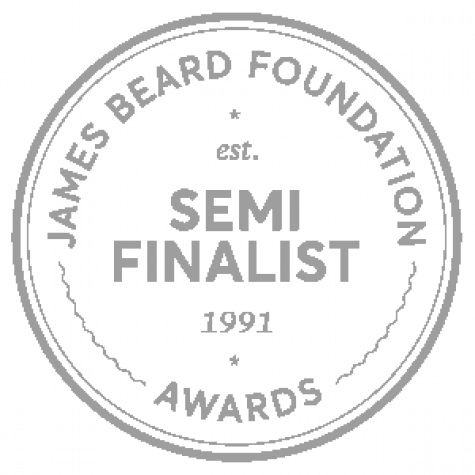 Best Chef: Mid-Atlantic
2018 Semi-Finalist
Hungry for More? Subscribe to Our Mailing List!
Follow Us on Social Media
info@heirloomkitchen.com | 3853 Route 516 Old Bridge, NJ 08857 | 732-727-9444
© 2018 Heirloom Kitchen, LLC. All rights reserved.  /  Designed by Waveman Studio